The academic at the centre of the Facebook data scandal has said the social network is in full-on "PR crisis mode".
Aleksandr Kogan's remarks came as he faced a grilling over his role from MPs.
The social network was fully aware that its platform "was being mined by thousands of others", he said.
He also rubbished Cambridge Analytica boss Alexander Nix's initial claims that it had not received data from him.
"That is a fabrication," he said.
In a later clarification, Cambridge Analytica did admit that it had licensed data from the firm set up by Dr Kogan, although denied that the information was used in the US elections.
At a press conference held after Dr Kogan's appearance before the Digital, Culture, Media and Sport Committee, Cambridge Analytica spokesman Clarence Mitchell said the company was "no Bond villain".
"Data analysis is commonly used for better targeting and is perfectly legitimate. It is not some Bond-like brainwashing as has been portrayed by some."
Money-making exercise?
Dr Kogan was questioned by MPs about his role in the data harvesting row.
He revealed that he had signed a non-disclosure agreement with Facebook, which prevented him from revealing some details about his relationship with the tech giant to the MPs.
The Cambridge academic has become a central figure in the debate over whether the personal information of millions of Facebook users was used in US elections without their consent.
During the committee hearing, he explained that he was approached by SCL – the parent firm of Cambridge Analytica – in spring 2014 about monetising an app he had developed at the University of Cambridge's Psychology Department.
He set up a commercial entity – Global Science Research – and later developed the personality quiz My Digital Life for SCL, using a market research firm to recruit 200,000 people to take part.
At the time, the social network's terms and conditions – which have since been changed – allowed developers to cull the details of all of these people's friends as well.
"Initially the conversations with SCL were about consulting services, survey designs and the interest in Facebook data grew out of that," he said.
MPs grilled him on the relationship with business partner Joseph Chancellor, with whom he set up GSR and who is now employed by Facebook.
"Facebook has called your company a scam and a fraud. Is it not odd that they employ someone who by their admission has violated the platform's policies?" asked committee chairman Damian Collins.
"I don't believe that they actually believe this. They know that their platform is being mined left and right by thousands of others," Dr Kogan replied.
"It is convenient to point the finger at my firm and call it a rogue agency," he added.
He was asked whether the firm had been set up as a money-making exercise and replied that it had only received £230,000 in total.
Initial payments of between £600,000 and £800,000 from SCL were used to pay those who agreed to take the quiz, he said.
In written evidence presented ahead of the committee, Dr Kogan pointed out that the personality scores provided to Cambridge Analytica's parent firm SCL were "highly inaccurate".
"We estimate that we were right about all five traits for about 1% of the people."
He added that the data would not have been useful for micro-targeting ads on Facebook.
Not brainwashing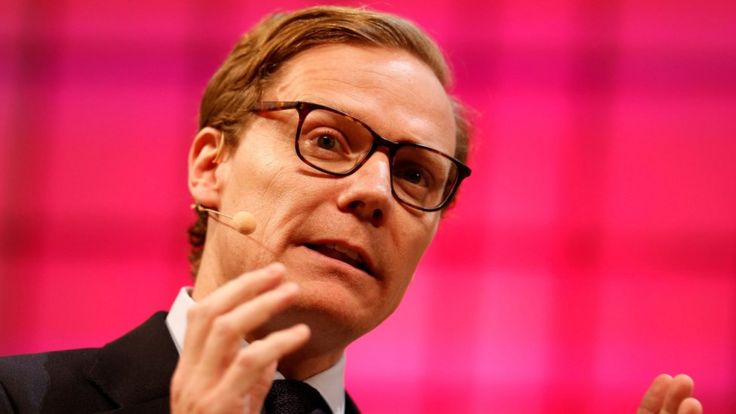 Following his appearance, Cambridge Analytica broke its silence on the row with a press conference held in London.
Spokesman Clarence Mitchell agreed that the data Dr Kogan had provided to the company had been "virtually useless".
"It was only just above random guessing in statistical terms," he said.
He reiterated that the data had not been used in the US presidential campaign and that while Cambridge Analytica had pitched for work to both Vote Leave and Remain, it had undertaken no work for either side in the EU referendum campaign.
He said the results of an independent inquiry into the company were due imminently.
When questioned about the notable absence of currently suspended Cambridge Analytica chief executive Alexander Nix, Mr Mitchell said he was "not here to speak for him".
But he defended Mr Nix's decision to "postpone" an appearance in front of the Digital, Culture, Media and Sport Committee.
"He is keen and willing to speak to the DCMS committee but has been advised that he should not do so while an independent inquiry is ongoing."
On Thursday, Facebook's chief technology officer, Mike Schroepfer, will be questioned by the committee.
Hits: 31